About Cliff Shin, Ph.D.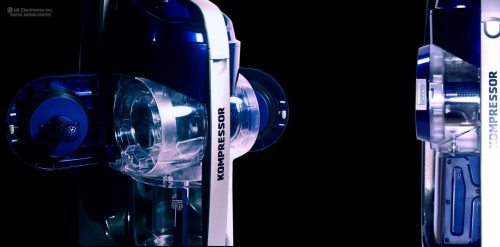 Bio
Dr. Shin holds the position of Associate Professor of Industrial Design within the School of Art and Design. His scholarly pursuits center around the realm of aesthetic longevity, a domain he delves into by investigating facets such as visual complexity, familiarity, and visual entropy. These themes were rigorously explored throughout the course of his doctoral dissertation.
In addition to his academic pursuits, Dr. Shin is an adept collaborator across multiple disciplines, including Business, Mechanical Science and Engineering, Neuroscience, Electrical and Computer Engineering, Kinesiology, Consumer Science Agriculture, and Advertising, among others. Dr. Shin's professional acumen is further enriched by his prior engagement at the LG Corporate Design Center, where he served as a senior industrial designer. His tenure at LG involved the designs for household appliances such as washers, dryers, and vacuum machines.
Dr. Shin has been deeply involved in the realm of innovative research endeavors, showcasing his professional dedication to creative exploration. His design prowess has garnered esteemed recognition, exemplified by his receipt of a distinguished accolade from the prestigious Red Dot Design Award (https://www.red-dot.org/project/foveai-54352). This venerable international design commendation, established in Germany in 1993, stands as a testament to his exceptional achievements. The design in question, titled "FoveAI, The Artificial Intelligence (AI) Rearview Camera for Micro-mobility," was not only acknowledged with the esteemed "2021 Product Design of the Year" distinction by the DNA Paris Design Award in Paris(https://dna.paris/winner/zoom.php?eid=71-88034-21), France, but has also received commendations from renowned platforms including the European Product Design Award, International Design Award, MUSE Design Award, and International Design Excellence Award.
Beyond his practical involvement, Dr. Shin assumes the role of a design researcher and practitioner who seamlessly integrates design research and application into the pedagogical landscape, thereby nurturing the development of future designers. His contributions in the realm of professional design research encompass extensive investigations into UI/UX (User Interface/User Experience), encompassing consumer insights, behavior patterns, and prevailing trends. These efforts culminate in the creation of forward-looking UI/UX solutions, tailored to the exigencies of a prominent consumer electronics manufacturer.
Education
Manufacturing Engineering Technology, B.S., Arizona State University
Industrial Design, M.A., Purdue University
Informatics, Ph.D., University of Illinois at Urbana Champaign